How Heath Bridges Works
The unique curved design of Health Bridges rotates and lifts the shoulders, and stretches back muscles and ligaments. A slot up the middle of the bridges accommodates the spinal column and eliminates pressure on this area, distributing body weight evenly across the muscles of the back and providing beneficial pressure against critical areas along the spinal column. The overall result is improved posture and flexibility. This can help to enhance confidence and self-esteem.
Click here to view video demonstration of Bridge 1.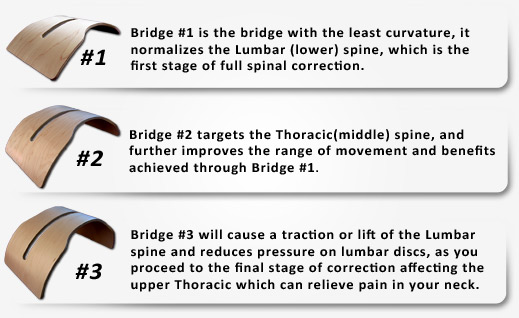 The muscles will gently release and the skeleton will gently mold over the bridge creating the proper posture. This occurs with the body in a state of relaxation, for only then does it become a natural state.
Don't hestitate to contact us, we would be happy to explain or demo our product in person.
47 Leslie Street
St.John's, NF A1E 2V7
Phone: 1-709-738-5908
Fax: 1-722-5527